Reinforcing And Sustaining Change Outcomes - Executive Summary
Making change stick is vital to realizing the desired benefits of a project or initiative. Sustaining change is the last and most crucial step to successful change management. This topic and more are addressed in the Reinforcing & Sustaining Change Outcomes study. Download the free Executive Summary for a sample of the research.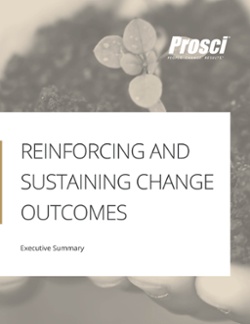 This free research sample explores
The biggest contributors and obstacles to sustainment
The actual and preferred owners of sustainment design and execution
Getting support from senior leaders, project teams and impacted groups
How to define and measure expected results and outcomes.